Page Section Navigation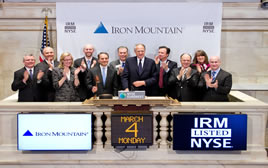 Investor Relations
We are committed to increasing per share value for our shareholders. Ultimately, value creation comes down to how well we manage the business and how well we invest your capital. We take this responsibility very seriously.
Shareholder Info - Investment Calculator
Date Requested

05/19/13

The date you requested is not available. The previous trading day is

05/17/13

Closing Price

$

38.96

Shares Today

-

Investment Value

$

-

Percent Change

-
Return calculations do not include reinvested cash dividends.
Contact Information
Stephen Golden
Vice President,
Investor Relations
Iron Mountain Incorporated
745 Atlantic Avenue
Boston, MA 02111
Phone:
617-535-4766
sgolden@ironmountain.com